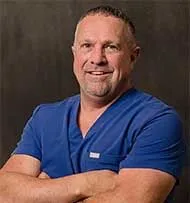 Dr. Bill Johnson II is proud to carry on a long line of family tradition in the chiropractic profession. He received his pre-med studies through Braneu University, then attended and graduated with his doctor's degree from Life College of Chiropractic.
Post graduate studies:
100 hours x-ray diagnostics
100 hours in Extremity Diagnostics and Adjusting
100 hours in Acupuncture through the National Board of Acupuncture
100 hours in Rehabilitation through the American Chiropractic Rehab Board
Level 3 Soft Tissue GRASTON Practitioner
National Board Certified
WV State Board Certified
American Chiropractic Association member
Dry Needling Certified
He enjoys weight training, snow skiing, boating, horses and time with his wife Brandi and his 2 children Zane and Jordan.
If you would like to see if chiropractic care can help you or a loved one, give us a call.